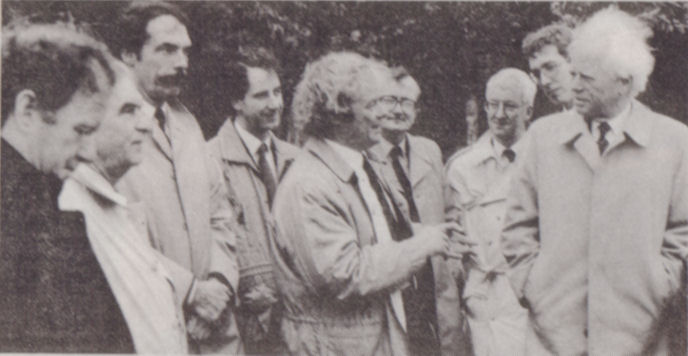 Messrs Broeder, Treumann, Duborg and Power of the European Investment Bank came to view the dam improvements at Poulaphouca on November 15. John godden, Deputy Station Manager, Turlough Hill, centre picture is seen giving a technical explanation - in layman's language, of the dam structure and improvements. The attentive audience included Finance Manager, Tony Donnelly, fourth from left, Paul Regan, Treasury Manager, second from right and Paul O'Dwyer, Secretary, Dept. of Finance, fourth from right.

Protecting Our Natural Heritage At Poulaphouca
On November 16 a group of directors from the European Investment Bank visited Poulaphouca to view the dam structture and how the expert's recommendations and alterations had been carried out.

Pollaphouca Dam holds back the water of a reservoir which is part of our National Heritage of clean, renewable power and an important element in Dunlin Corporation's water supplyy in the city. It was built as part of what was the second major hydro-electric development in Ireland after the Shannon Scheme and the first by a young ESB,
which was then only a little over fifteen years old. It was in the lean times of 'the emergency,' as the Second World War was called, and this alone made the construction a great feat. The dam across the River Liffey above Pollaphouca waterfall created a reservoir about 5,000 acres in areas. It has now been there for over forty five years and has proved itself to be a credit to its designcers and builders. But those designers working in their time using the technology of their day, might have done things a bit differently if they had had modern technology at their disposal.
In recent years, with this in mind, studies were carried out on this and all ESB dams and European expertise was called in for advice. The result was a series of recommendations which have since been carried out at Pollaphouca. The whole operation was helped by money loaned by the European Investment Bank. It was not that the dam had been unsafe. Far from it! But assurances of its being able to withstand all that nature might see fit to throw at it is now made doubly sure!