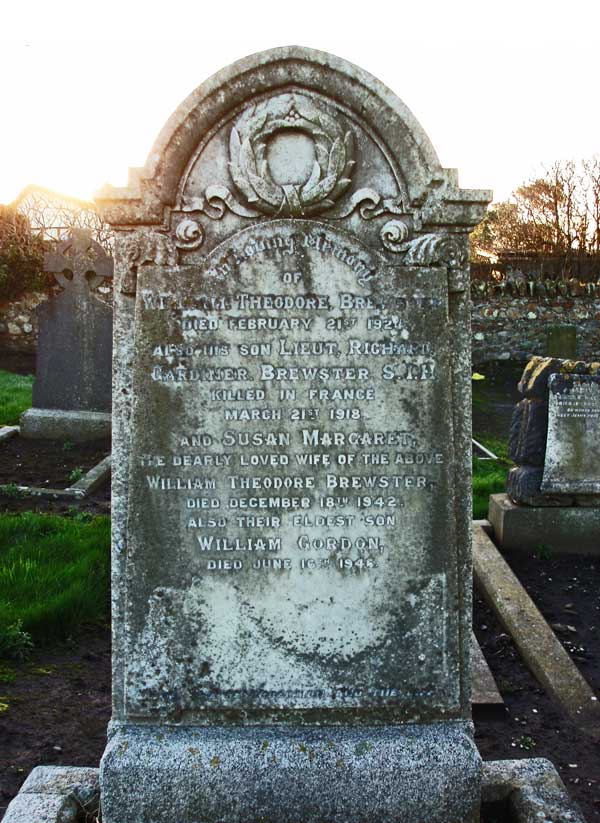 This is a story with a beginning and an end.

It begins with William Theodore Brewster and ends with his eldest son William Gordon Brewster.

The story lies behind the gravestone (above) in Kilbarrack Cemetery, Sutton, County Dublin, Ireland.

Click for larger image
William Theodore Brewster was born in 1862 in Everton, Lancashire, England. His father was a watchmaker but William Theodore became a clerk in an export company.

By 1884 he had come to live in Dublin. By 1896 he had become an accountant and by 1911 he was Manager and Secretary of the relatively newly launched Independent Newspapers.

In 1884, while living in Bachelors Walk, he married Susan McConnell, originally from Tipperary, but then living in Fontenoy St. Though raised a Roman Catholic, William Theodore was married in St. Mary's (CofI) church, Mary St. While he remained a Roman Catholic, the children were all raised as Church of Ireland.

Between 1885 and 1901 the couple had seven children, four boys and three girls. They lived in Dolier St., Aughrim St. Connaught St., and finally in Iona Rd. William Theodore died on 21 February 1924, but his widow stayed on in the house for another decade.

Click for larger image
Richard Gardiner Brewster was was baptised in St. Mark's (CofI) Pearse St. (then Gt. Brunswick St.) on 24 June 1892. His baptism record says he had been born on 12 April 1892 at 15 Dolier St.. His birth had already been registered with the civil authorities on 14 May 1892 and the civil birth cert puts the date of birth at 24 April 1892. The civil cert does not show his Christian name which may suggest that this had not been finally decided until the Baptism.

He became a 2nd Division Clerk in the Department of Agriculture and Technical Instruction for Ireland. In spite of having suffered from diphtheria in his youth he was accepted into the South Irish Horse Regiment (SIH) in 1912. He was apparently already a good horserider. He progressed quickly through the ranks and became a full Lieutenant in 1918.

He had two innings with the BEF in WWI, from August 1914 to November 1916 and from May 1917 until he went missing in action in March 1918. He was awarded the 1914 Star and General Gough had awarded him the Mons Star ribbon in late 1917.

The story of his going missing was reported as follows at a later date by his former commanding officer, Major F Call.
During the night the usual protective and fighting patrols were sent out and nothing unusual was reported. In addition I sent out my Intelligence Officer, Lieut. BREWSTER (...) with a party of picked scouts to the North of GUILLEMONT FARM. Unfortunately this patrol was caught in the barrage on its return and only one man reached Bn. H.Q. after the attack commenced.
As well as those killed that night, many were taken prisoner.

Richard's father, who had been informed that Richard had gone missing, had made contact with two privates who had been wounded and were then in Dublin Castle Hospital. Both reported that they had seen Richard being taken prisoner on the day in question.

Then at the end of June a report was received from 2nd Lieutenant Baily (SIH), via the Red Cross from a prison camp in Germany, that he had seen Richard dead on the field that day. William Theodore wrote to Bailey and following his reply was disposed to accept his version of what had happened. Bailey's version was also supported by the fact that there did not appear to be any record of Richard being held in any German camp.

The impact of this bad news must have been all the greater for the hope that was held out in the interim.

So, while Richard is commemorated on the tombstone, his body is not in Kilbarrack but rather in some unknown spot where he fell. He is also commemorated on the Pozières Memorial, in the former St. Georges Church, Hardwicke Place, Dublin and in the High School, Dublin, where he had been a pupil. He also figures on the new High School WWI project website.

[Thanks to Doug Vaugh, who has researched the South Irish Horse and on whose material I have drawn extensively in the above account.]

Click for larger image
All I know about Susan Margaret McConnell is that she was born in Co. Tipperary in 1865, lived in Fontenoy St. in Dublin at the time of her marriage to William Theodore, and died in 1942. She was Church of Ireland.

Click for larger image
William Gordon Brewster was born on 26 September 1889 at 15 Dolier St. He was baptised into the Church of Ireland in All Saints Church Grangegorman on 15 October 1889.

He attended the Dublin Metropolitan School of Art (subsequently NCAD) and joined Independent Newspapers in 1906 as a staff artist. His father was Manager of the company at that time.

Gordon subsequently became their chief artist and the National Library of Ireland has a series of his cartoons, drawn between 1920 and 1932, which attest to his versatility as an artist and the pertinence of his comments on current affairs (mostly financial and economic).

On 3 November 1926 he married Marie Elizabeth Burfoot, in St. Agatha's Roman Catholic Church. She was the daughter of an engineer and was living on the North Strand Road. She was originally from Halliday Square near the Oxmantown Road. He was living in Strandville, Howth, with his mother. His father had died two years earlier. Marie Elizabeth was 18 and Gordon was 37.

Strandville was destroyed by fire in 1931, and by 1932 Gordon was living in The Grove in Sutton. By then there were two children, Marie Dolores in 1929 and Richard in 1931.

Gordon died suddenly in The Gem in Howth on 16 June 1946. That is where my initial interest in him and his family comes from. My mother ran that shop at the time.

He was buried from Sutton Roman Catholic Church, which suggests he had converted to Catholicism when he married Marie.

Following his death Marie and the children lived in England.