Nicotine Cat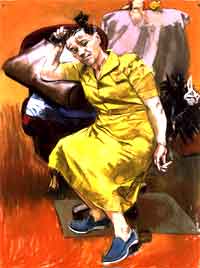 You will remember that we were all invited to the launch of the above book which is published by Brian Lynch (Duras Press). The occasion at the Unitarian Church in St. Stephen's Green was a great night. Whacks of interesting people.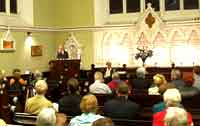 Brian gave a tour de force introduction to the book and its author, Augustus (James) Young, who proved to be an engaging guy. The church setting added greatly to the literary tone.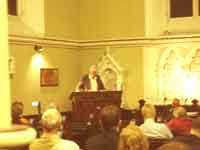 You can get the book here

Besides myself, other iarscoláirí present were Alan Dukes and Kevin Brady.

Apart from the usual interesting wall plaques, the church boasted an innovative ecumenical piece entitled "Celebration". The sculptor was Patrick McElroy. It includes imagery from the various world religions. It is refreshing to see this sort of stuff in a conventional Christian church.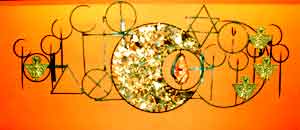 Fill ar bharr an leathanaigh
---
Foley's 2009
John's letter to Tony following our night in Foley's is reproduced below. Again all credit and thanks to Tony for organising a great night.

Dear Tony,

My visit to Dublin is now well behind me and I have to say that the recent evening at Foley's with my old Colaiste Mhuire friends was one of the best such nights yet. It was extremely funny and it seems that many of us are becoming more outrageous as the years roll on.

Thanks to all of those who came along on the night and commiserations to all of those who didn't, or couldn't, because you did miss out on a really great night.

O'Bradaigh was in full flight on the night (as always) with outrageous comments on most things and was robust in his defence of them! Frank Russell was the master story-teller on the night and he regaled us with many interesting tales from helicopter & aircraft disasters and near-disasters to Local and International politics. His detailed descriptions of helicopter activities near the Irish North South border were hair-raising. His stories and inside knowledge about irish politics and politicians is always illuminating.

Its OK Alan (Dukes) - you were missed, but not mentioned either favourably, or unfavourably, on the night. Mind you I am not at all sure whether that is a good thing for a Politician!

Altogether a brilliant night and we can do it all again next year as I am putting the finishing touches to our trip to Europe this week.

With Kind Personal Regards to all of you,

John Whelan

Fill ar bharr an leathanaigh


---
Foley's 2010
Message from John re next year
So pencil it in!


With regard to next year Foley's night, I can already advise that it will be on Friday, July 16 from 7pm.

You can read John's letter on our 2009 night here.


---
Call for contributions
I have sent out a specific email request to the lads for material for inclusion in this newsletter. I included a list of possible topics, ranging from the autobiographical to opinion pieces. I look forward to getting loads of replies (ha!).


---
Contribution No. 1 - John Whelan
Unsurprisingly I got a piece from John Whelan by return post. It is a good read, and all credit to John for penning it. John (along with Tony) has been the motor of our "annual" reunions. Míle buíochas, a Sheáin. You can read it here


---
Contribution No. 2 - Seán Ó Maoláin
Seán Ó Maoláin has raised some questions arising out of Seán Ó Faoláin's contribution. These serve to widen the debate. Some of them had sort of occurred to me. Can we continue this debate which could end up being both revealing and useful? You can read it here


---
Cúrsaí Tís
---




Síntús

Seol isteach bhúr gcuid scéalta, griangrafanna, airgead don chiste chosanta (only joking - strict editorial control !!)


---
Treoir

Guidelines for submission of material for publication in IarNuacht. These are designed to be helpful to everybody in the long run!
---