Martello Snippets

1805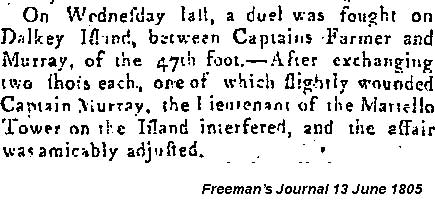 On Wednesday last, a duel was fought on Dalkey Island betweeen Captains Farmer and Murray, of the 47th Foot. -- After exchanging two shots each, one of which slightly wounded Captain Murray, the lieutenant of the Martello Tower on the Island interfered, and the affair was amicably adjusted.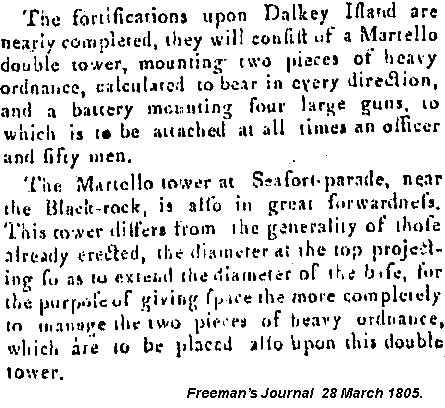 The fortifications upon Dalkey Island are nearly completed, they will consist of a Martello double tower, mounting two pieces of heavy ordnance, calculated to bear in every direction, and a battery mounting four large guns, to which is to be attached at all times an officer and fifty men.

The Martello tower at Seafort-parade, near the Black-rock, is also in great forwardness. This tower differs from the generality of those already erected, the diameter at the top projecting so as to extend the diameter of the base, for the purpose of giving space the more completely to manage the two pieces of heavy ordnance, which are to be placed upon this double tower.