---
Dockland Days
---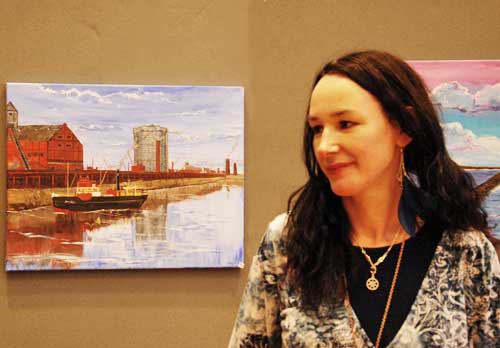 This is Sueann Moore and she is currently exhibiting some of her paintings in my favourite exhibition space in Pearse St. library. She's originally from Ringsend and is now living across the road from the library in Pearse St. The paintings are all from around the area she grew up in and the one she now lives in.

Rather than attach her own commentary to the paintings, she has gathered those of former or current residents, and the whole adds up to a wonderful recollection of the area as it was in earlier times, interspersed with some modern images, and some textual gems evoking its vibrant community spirit both past and present.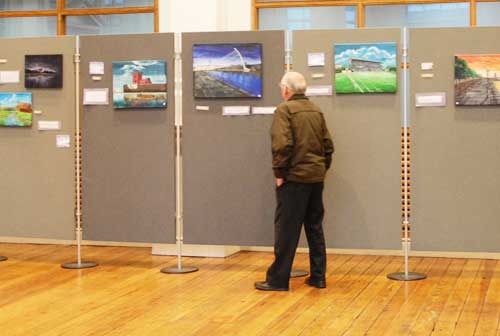 The exhibition takes up three sides of the available space, and the man you see in the picture is originally from Co. Clare but spent a large part of his life in Dublin and knows the area well. He had come in today on the recommendation of his daughter who now lives in Ringsend. What better recommendation? He had himself grown up in communities and very much appreciated the spirit of this local community as it came across in the exhibition.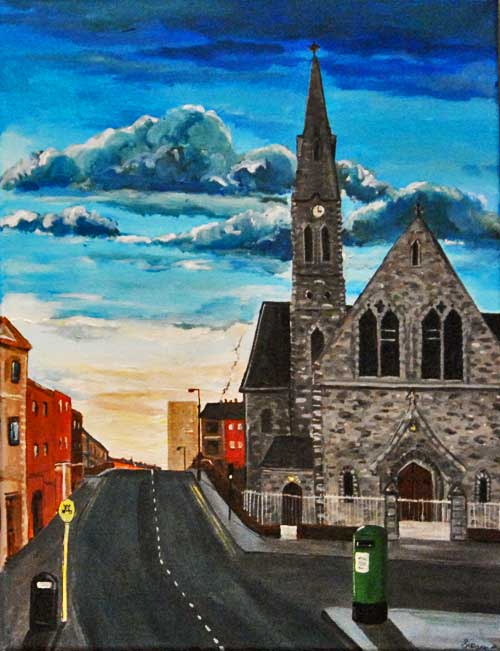 Ringsend has retained its community spirit over the years, and it is still very strong today, when many other villages in Dublin and elsewhere are disappearing into a maw of housing estates and some of the original residents are ending up scattered miles away from where they were born and grew up. These people are proud to be Ringsenders.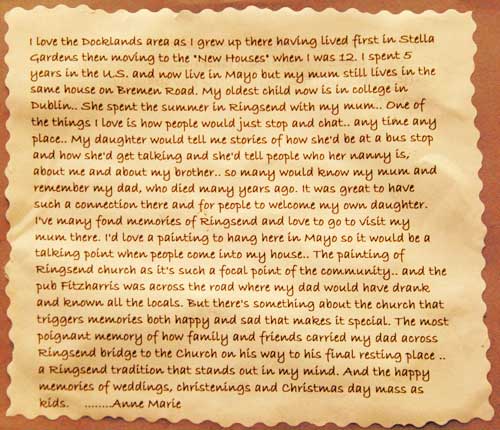 This recollection goes with the Ringsend church picture above and it is probably the longest piece of text in the exhibition. It is a gem and you really couldn't edit it down. Anne Marie who wrote it grew up in the docklands but is now living in Mayo. Her mum still lives in Ringsend and when Anne Marie's daughter comes to stay with her granny she is very taken with how people talk to one another in the street and in bus queues and how, when she said who she was, they'd know her people and make her feel welcome in the area.

I grew up in communities like that in Orwell Gardens and in Ballybrack, and even though Raheny where I'm now living is only a few miles from the centre of town, and despite a lot of development, it is still a village at heart. So I know what Anne Marie means and why she treasures it.




Sueann's paintings in this exhibition vary in style, though they all have a simple quality about them which is very appropriate to the subject matter of the exhibition.




This is the second gasometer, the one on South Lots, and one I passed in the train most days for twenty years. When there was none or little gas in storage it looked as it does in the picture. As more gas was stored the tanks expanded upward and occasionally you could see it was full. Now, while it retains its original shape and outer structure, it has been converted into a big apartment block and I really can't comment on the gas content.

Sueann's paintings are for sale and so far she has sold about two thirds of those on show in this exhibition, which runs till the end of this month (January 2014).

She tells me her next exhibition will be on the theme of celtic mythology and will be held in a pub in Parliament St.

Contact details:
Sueann Moore
Mail: sueann1975@hotmail.com
Mobile: 086 0611724
Facebook: facebook.com/SueannMooreArtist

You can read a short self-profile here

State of play on availability of paintings for purchase
(as of 4pm 14/1/14):