Cemeteries
Cemeteries are not only a source of additional information, provided you can trace the appropriate grave stone; they can also paradoxically bring alive, in some sense, the people you are tracing.

This thought led to my visiting a number of cemeteries connected with my family and the results can be seen both in the text below and the links within it.
Glasnevin - Prospect Cemetery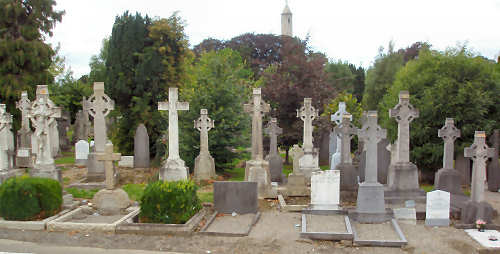 This cemetery was opened in 1832 as a non-denominational burial place. It's main purpose was, however, to serve the Catholic population who were smarting under the limitations frequently imposed on burials in Protestant graveyards.

My first visit was to trace the Burgess grave which Christopher bought when his wife died in 1906. I also wanted to see Patrick Mortimer's grave.

I then found out that Joseph and Mary Anne Mortimer (great-grandparents) were buried here. In the course of this search (for which Glasnevin charged me €30) I found that not only were the parents, along with their known sons William and John, buried here but there was also an earlier newborn and another young child.

I also found that John Burgess (Christopher's eldest son) and some of his family were buried here.

The results of all these visits are here.

---
Dean's Grange Cemetery
My mother and father are buried here, as is my Uncle Pat (Patrick Mortimer's youngest). My sister Martina's ashes are in this grave.


---
Kiltimagh Graveyard
My great grandparents (father's mother's parents) are buried here.


---
Ballyhaunis Graveyard
My grandparents (father's parents), along with uncle Jimmy and aunt Maggie, are buried here.


---
Bray Graveyard
My sister Martina's first husband, Adam, and her son, Gavin, are buried here. Martina's ashes are also in Gavin's grave.