The Fountain Picture Palace
James's St., Dublin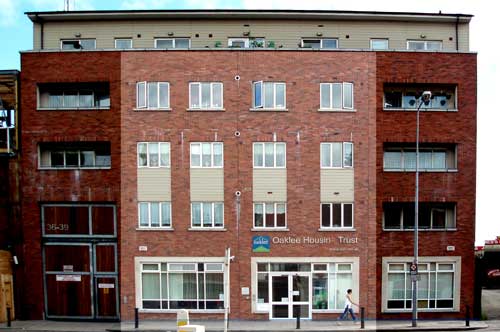 This is the site of what used to be the Fountain Cinema in James's St., Dublin. It is now the Oaklee Trust (Social Housing) apartment block. The highlighted section in the centre of the picture is where the cinema used to be. This complex has been in the news recently as the site of a gruesome murder.

The cinema was named after the drinking fountain in the centre of the road where James's St. splits into Mount Brown (continuing past James's Hospital) and Bow Lane (continuing past St. Patrick's institution down the hill to Bow Bridge).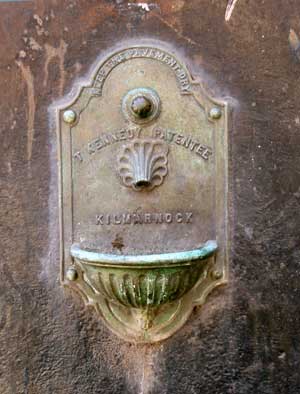 The cinema was owned by Irish National Picture Palaces Ltd. and opened on 26 February 1923 on the site of the old Phoenix Brewery. It was sold in 1939 to Associated Picture Houses Ltd. who reopened it as the Lyric. The Lyric closed on 23 June 1962 and the premises became a carpet warehouse. It was demolished in 2002 to make way for the present apartment complex.

My interest comes from my great grandfather's boot and shoemaker's premises which was located in various buildings in the Fountain area of James's St. from 1873 to 1920. His final premises (No. 45) was just seven doors down from where the cinema eventually opened. By that time, however, the immediate family had moved on. Only the Medlar relations were still living up that end of James's St. though I'm sure the family still patronised the cinema. Some ten years later in 1934, Alderman Patrick J. Medlar officially opened the new Tivoli cinema, further down the road in Francis St.

Below is an architect's drawing from 1922 of the Fountain Picture Palace. Note that the building was originally only two stories high.