Where are they, exactly?
Locating the family in space.
New medium
I have now, more or less, got the hang of making simple use of Google maps. The great advantage of this medium is that the maps are interactively scaleable; family members can be hotlinked to photos, cameos etc.;the data is easily updated and the presentation tweaked. What follows is still a work in progress.

Using the Maps
The initial views are set out below. Location can be altered by zooming and dragging the map. To change the category of person shown you need to come back to this page and rechoose as between ancestors (mine), non-ancestors and all relations. Before clicking on any of these you should familiarise yourself with the instructions below.

Close your favourites or history sidebar. You will need the screen space.



Map controls are in the top left corner of the Map. You can zoom in and out, or scroll the map. If there is a cluster of markers, zooming in will split them up. Scrolling the map will allow you to choose the area to display.
A better way of scrolling is pressing the leftclick mouse button and dragging the map around, and you can zoom in on a spot and centre it by double clicking on it.

When you place the cursor over a marker the rectangle at the top left of the map will indicate the name of the person whose location is shown by the marker.

Clicking on the marker brings up an information window on that person.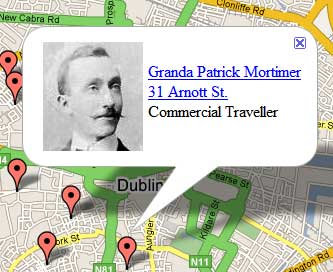 If a cameo exists for that person, clicking the hotlink will bring you to it (Granda Patrick Mortimer in the illustration). From there, click the browser back button to return to the map.

If the address is hotlinked, clicking on it will bring you to a photo of the house at that location (31 Arnott St. in the illustration). From there, click the browser back button to return to the map.

To close the information window, click on the blue x in the top right hand corner of the window, or click once on any plain section of the map.

Enjoy!