Bloomsday - 2014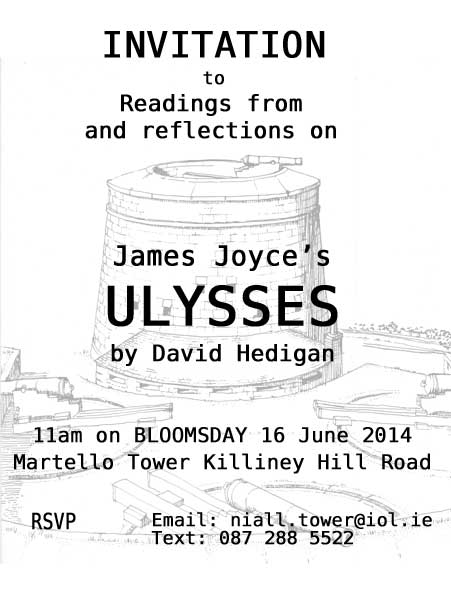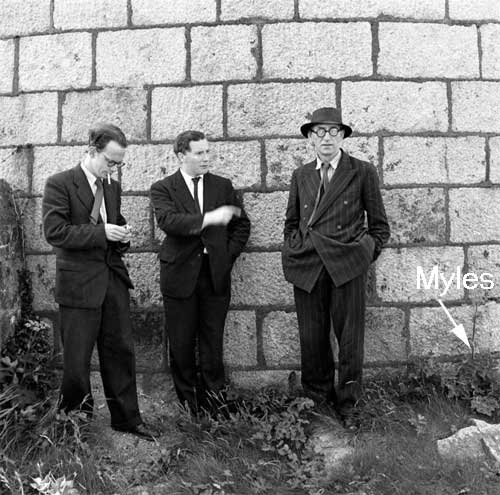 Above you have Anthony Cronin, John Ryan and Patrick Kavanagh, in the first celebration of Bloomsday as such in 1954. Brian O'Nolan (Myles na gCopaleen) was also somewhere about the place as was Tom Joyce, James Joyce's cousin.

It is important to get all these dates right. The original Bloomsday (though not known as such) was 16 June 1904, a day in the life of Leopold Bloom. The book Ulysses was not published until 1922. The first actual celebration of Bloomsday as such was in 1954 (see picture above) and this page deals with the celebration of the 110th anniversary of the original Bloomsday at Killiney Martello (No.7 Dublin South) on 16 June 2014 (see below).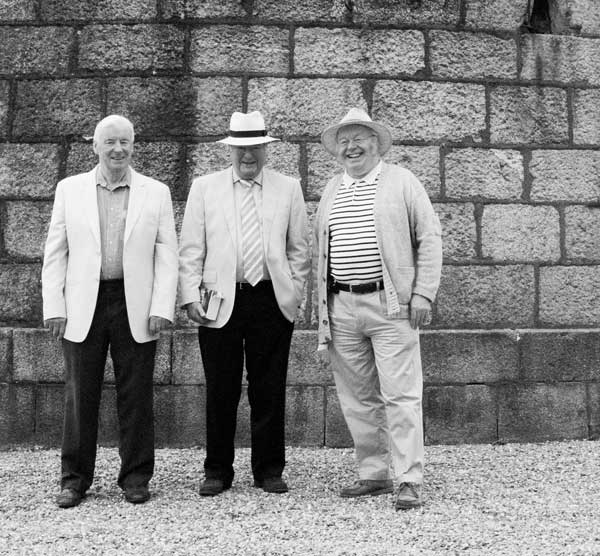 You will notice a certain similarity between the picture above and that of 1954. I just couldn't resist it. In this picture you have Niall O'Donoghue, owner and restorer of Tower No.7, David Hedigan, who did the Joyce readings and recollections at the Tower, and Felix Larkin, who, for the purpose of the day, was an intelligent member of David's audience (more below).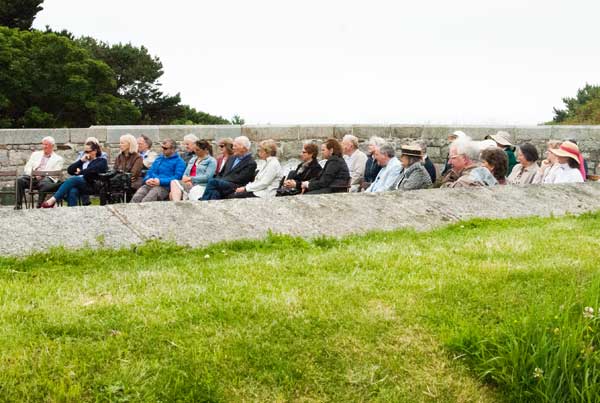 The audience are ready and waiting on the battery plain, well protected by the glacis from any stray cannon balls, unless of course, one bounces down onto the guardhouse roof and then all mayhem will break loose and casualties will be reported.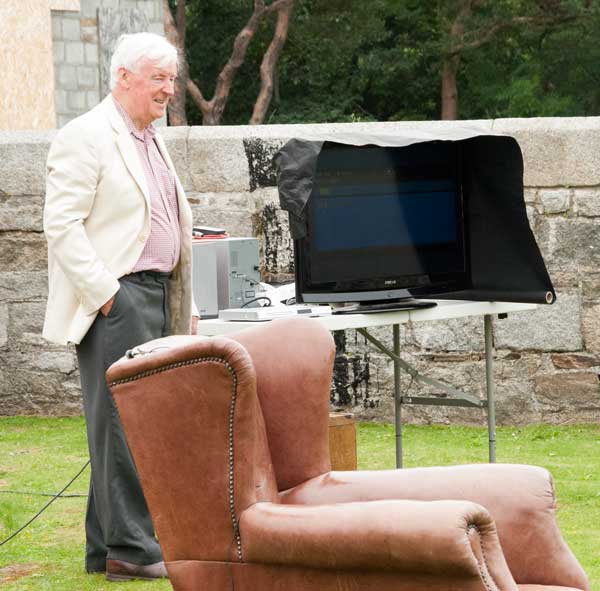 To set the ball rolling Niall introduces a short film of Joyce's Dublin, preceded by a military reveille on the bugle appropriate to the Napoleonic period when the towers were built.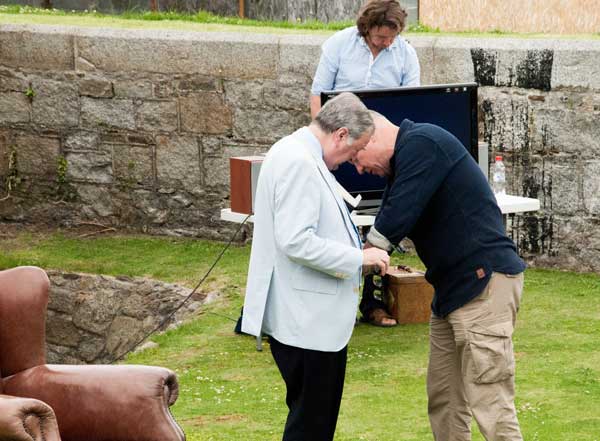 On then to the main item of the day, but first the technical stuff as David is wired for sound. No studio lights, so no need for makeup.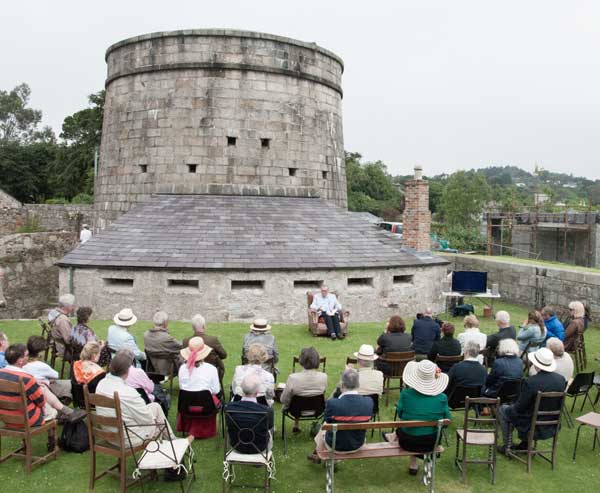 And away we go. Are you sitting comfortably? Well let us begin.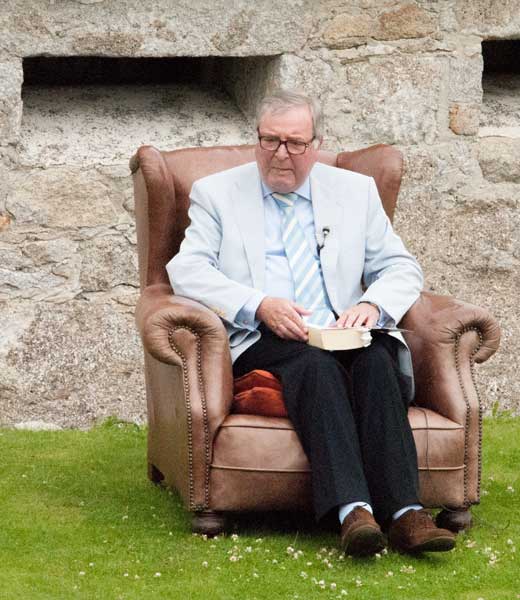 David first introduced the work Ulysses and then went on to read some relevant passages, commenting on them as he went along.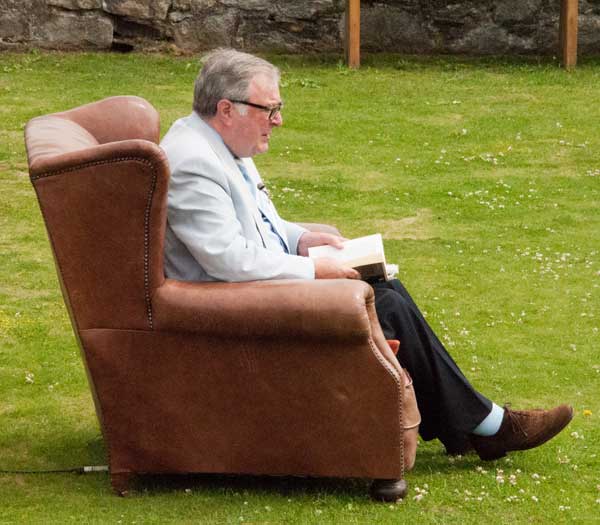 He clearly could not but start with stately Buck Mulligan and the opening sequence of the book in the Martello Tower in Sandycove.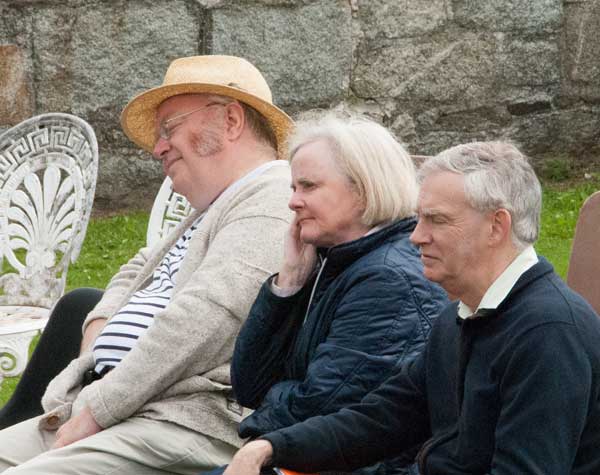 Members of the audience are attentive, and one is totally enraptured.
David keeps going, picking various passages from the book and not forgetting to throw in the Dublin accent where this is required.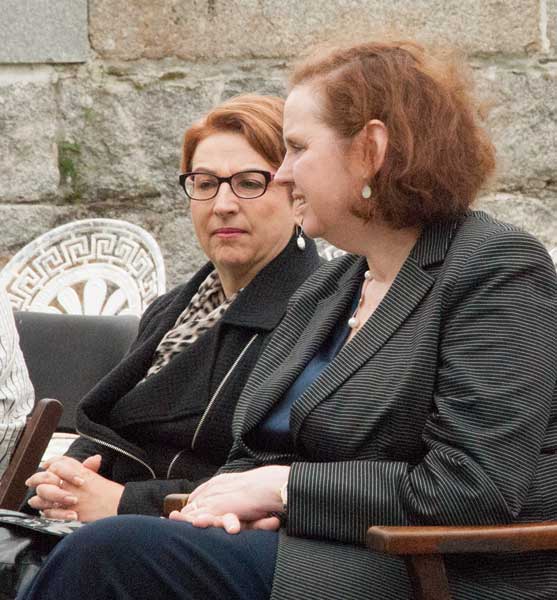 The Australian ambassador, Dr. Ruth Adler (right) and her friend. I'm not sure to what extent she is attending in her ambassadorial function or whether she is just a neighbour dropping in. She lives a few houses away down the Killiney Hill Road, and yes, she was invited. A most gracious and enthusiastic lady and not an air or a grace in sight. I think she'll be invited back.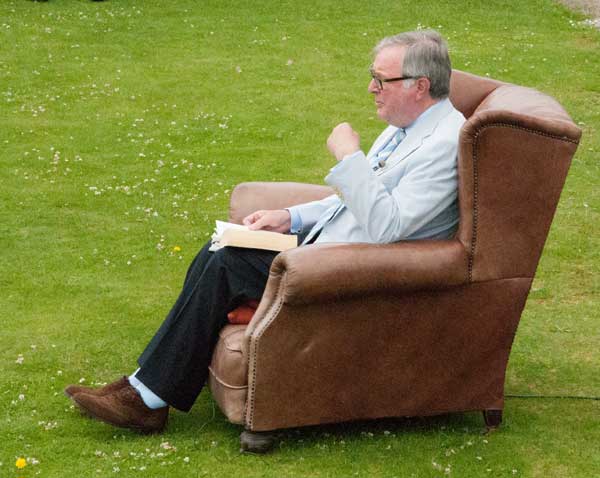 And as David approaches the conclusion of his tour de force ...
... Susan (Mrs Hedigan: impeccable credentials - born Bloomsday and living in Bloom cottage) looks round to see how the audience are taking it and ...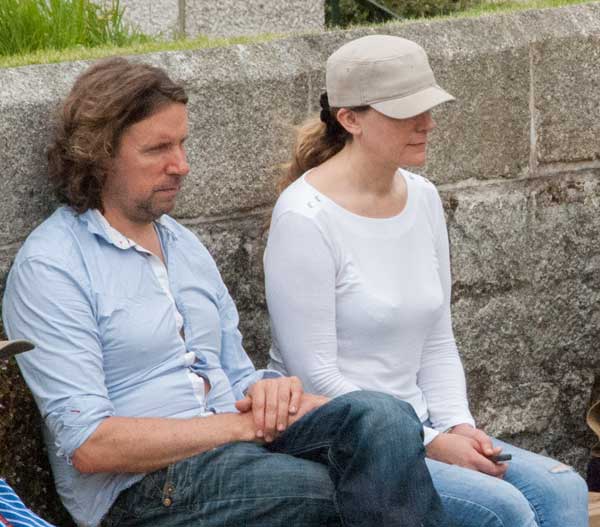 ... even Niall's family are paying attention. Niall's son, Philip, and daughter, Emma. Philip was in charge of the PA for the day and Emma, who runs the Busyfeet & Coco Café in South William Street, did the catering.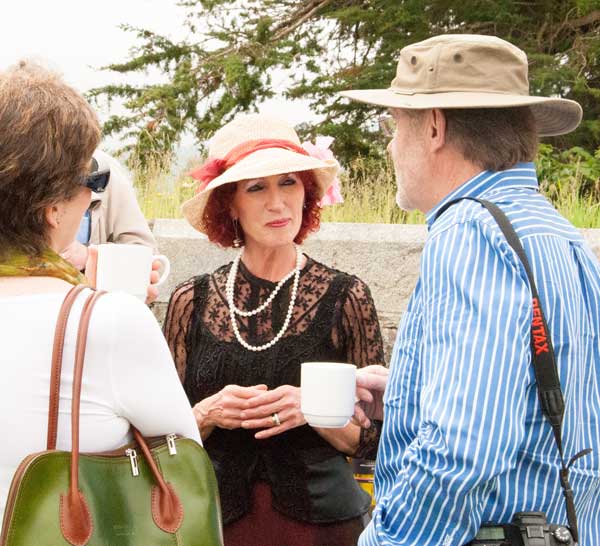 And then it's time for a cuppa and a chat.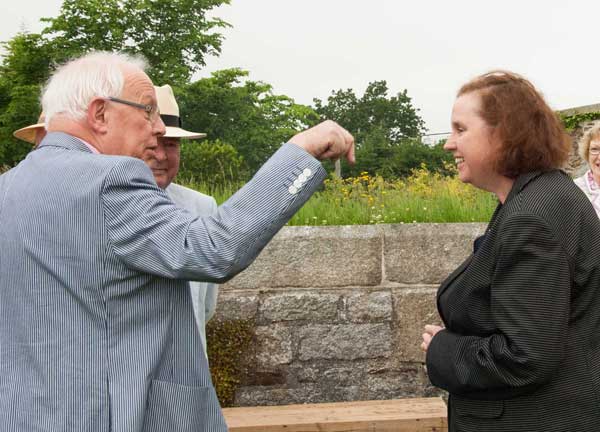 But there is no rest for Ambassador Ruth who continues to absorb more Joyce from Eric Moroney. She also got up to the crown of the tower and now realises that her residence is very much in range of the cannon. Others who could be visited by a cannonball on a dark night include Bono, The Edge and Enya, all within easy range.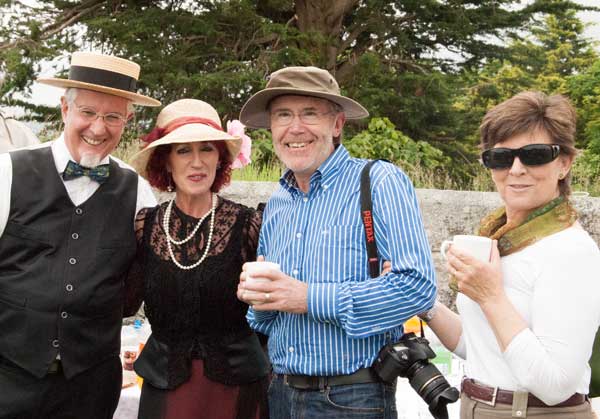 Some in period costume and others not quite. [L-R] Breffni & Yvonne Anderson and Cairbre & Sally Ó Ciara. Yvonne runs the Promenade Café (beside Teddy's) in Glasthule. Breffni & Yvonne live in the old Ballybrack & Killiney Town Hall (Carrigbrae on Killiney Avenue).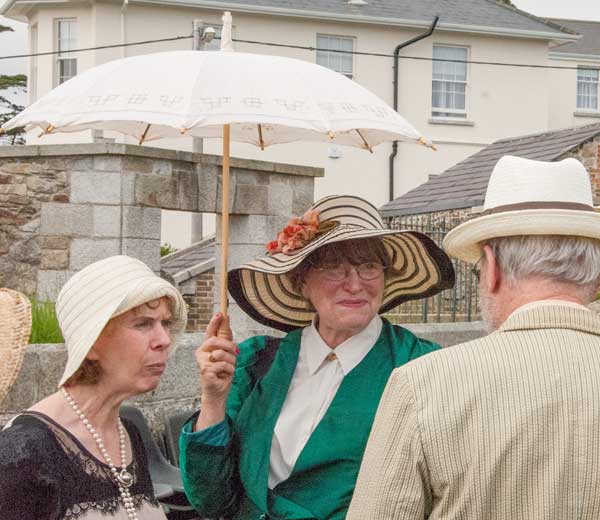 And much of this must surely be period.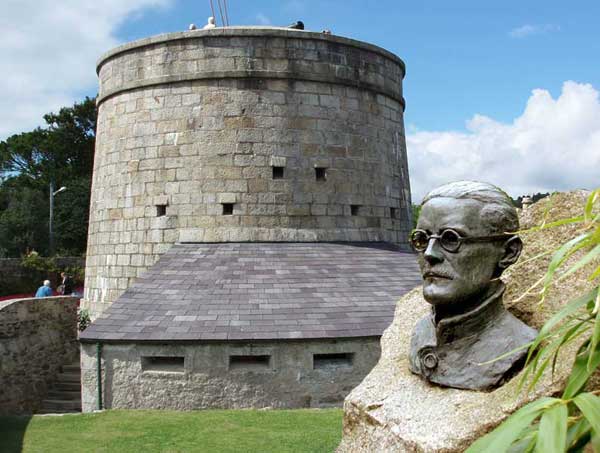 So, that's it for this Bloomsday. Will any member of the audience, who has not already done so, be inspired to tackle Ulysses? We'll just have to wait till next year to find out. Assuming, of course, that we're all invited back.
---