Stress Test - 2014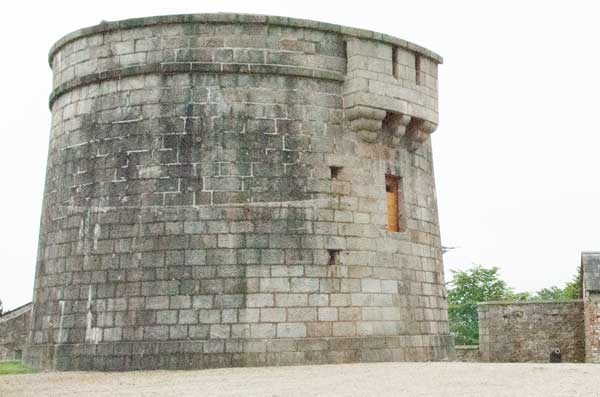 The Tower on Bloomsday 16 June 2014
A 200+ year old restored Martello Tower had its defensive capabilities tested at 2 a.m. this morning (24/6/2014). The Tower passed the test without a shot being fired.

A night time raid on Martello Tower Seven, Tara HIll, Killiney was defeated even though the Tower itself was unguarded and the raiders used a seven metre ladder.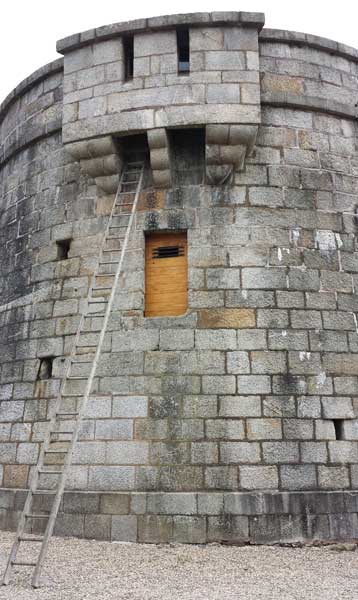 The 7 metre ladder, early in the morning of 24 June 2014.
Photo: Niall O'Donoghue
The clever original design of the Martello Tower, built in 1805, outwitted the intruders who failed to enter the Tower through the murder holes under the machicolation. Had the Tower been fully garrisoned they would, no doubt, have perished in a stream of boiling oil or a volley of musket fire.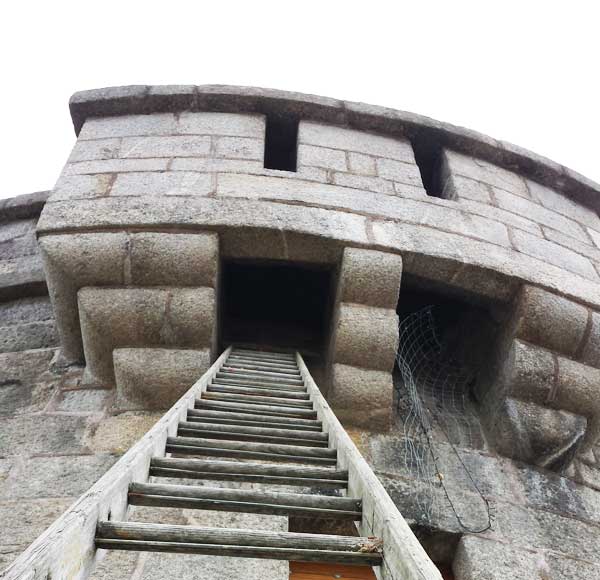 The murder hole, under the Machicolation.
Photo: Niall O'Donoghue
They had earlier tried unsuccessfully to enter the Tower through the narrow musket loops in the attached Guardroom.

Gunner in charge, Niall O'Donoghue, who was on duty at the time, interrupted their attempt to break into the Gunners Cottage foiling their raid and seeing them flee the scene into the dark night empty handed.

The Garda were quickly on the scene and evidence left behind by the intruders will be posted here as soon as it is clear that it will not prejudice any possible upcoming court case.

The raiders may well have been caught in a time warp and not bargained for the sophisticated modern surveillance systems employed in the restored tower.

It is not known if the intruders, possibly under the influence of the recent Bloomsday, were attempting to emulate the real life experiences of James Joyce and Oliver St. John Gogarty , or whether their motive was purely a mercenary rather than a literary one.