As you may have gathered from other pages on this site, I had the habit of carrying a camera from an early age. It has meant that I now have hundreds, if not thousands, of negatives of photos I took over the years. In the sixties, for example, I took a lot of pictures of Nelson's Pillar before, during and after its demise. These were guaranteed to become historical at some stage, but I have the feeling that everyone else was doing the same thing. And, in any event, hadn't we always got the newspapers to fall back on.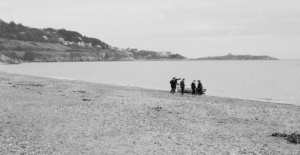 Well, yes and no. Some of the photos I took were simply contemporary at the time but have acquired an unexpected historical significance since, due often to unexpected changes in the environment in the meantime, most particularly in the built environment. Many of these would not have ended up in the newspapers of the day.

This page recounts a story about what was and what wasn't in the newspapers.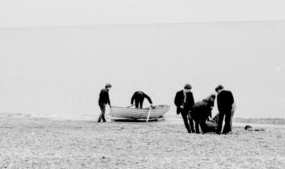 One day in late March, 1966, I was walking along the station road in Killiney when my eye was caught by something unusual happening near the waterline in front of Homan's.

One of Homan's long rowing boats was partly drawn up on the beach and seemed to be flanked by balaclavad figures presenting oars. It was too far away to be sure of what was going on.

I had my camera across my shoulder and I set out for Homan's. When I got there the action, whatever it had been, was clearly over and there were just a few ordinary looking people hanging around. I was convinced, however, that something had been going on so I started photographing what remained.



The boat was still there but there were no balaclavas and no oars. There was an odd looking sack which clearly contained something very heavy. I thought of a body but figured it wouldn't fit. It was heavy enough, though, to leave a deep trail in the sand.


The guys eventually got it as far as their car, an Austin Mini parked on the outcrop which can be accessed from the road. I couldn't see the registration number and went round the front of the car for a better view. Quick as a flash, one of the people was sitting on the ground obscuring the registration plate.

At this stage, I figured it might not be in my interest to hang around much longer and I scarpered.

I thought no more about it, writing it off as one of the mysteries of life.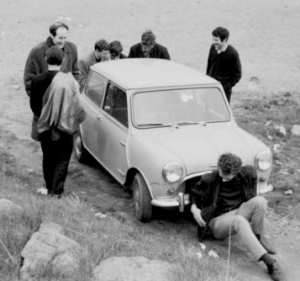 Then, unexpectedly, the plot was revealed.

The Evening Press, of 2 April 1966, carried a photo, on page 4, which explained everything.

The people I had seen on the beach had got a hold of Nelson's head, which was indeed missing at that time. They had taken a photo at the waterline with the head in the foreground. I don't know whether the photo had been commissioned or whether they subsequently managed to flog it to an agency. But, two young ladies had been photographically patched into the background in the photo studio, and the result ended up as a fashion shot in the Evening Press.

I had been kicking myself for the last 40 years that I had not kept a copy at the time. And, of course, I had forgotten subsequently the date and never worked up the application to track it down.

However, I was recently in the research section of the Public Library in Pearse Street, in Dublin City, and learned that they had newspaper archives going way back.

So, one recent day, I requested copies of the Evening Press, starting with March 1966 (the month Nelson was blown up) and resolved to look through every paper until I found it. Imagine my surprise when it turned up as soon as April of that year.

The reproduction (below) is a scan of a photocopy of a very poor quality newspaper reproduction, but it does make the point.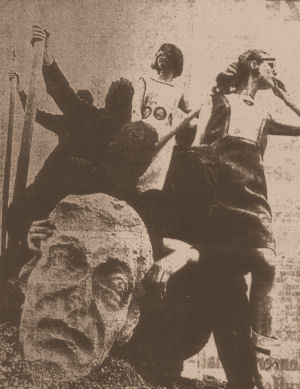 The caption read:

The models are wearing two linen creations. On left a nautical outfit with midriff portholes - lemon piped with purple. On right a shifty sheath in navy with white inset piped in red. Whatever about anything else in the picture the fashions are obtainable at Bolger's of North Earl St.


I contacted the Irish Press photo archive in the hope that I might be able to lay my hands on a good quality photo print (or maybe even a few of them - they seldom come in ones). They tell me it cannot be traced, so you'll have to make do with the current reproduction.