Alfie's new coat
Observed in Clontarf, Dublin 3
23 April 2011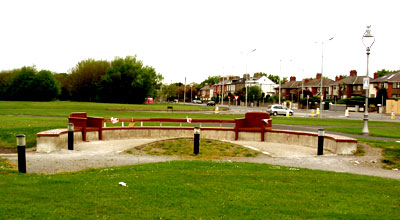 It's been there for over 20 years but I only discovered it this morning: Alfie Byrne's seat, at the corner of Alfie Byrne and Clontarf roads.

It has just got a new coat of paint, but the inscription around the front rim of the seat, while odd in its style of expression, has, fortunately, been preserved in, more or less, legible form. (see below)

The principal chair, with the crest, is the one on the right. The view is looking back towards town.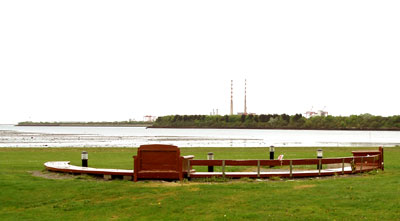 This is the back view looking out to sea.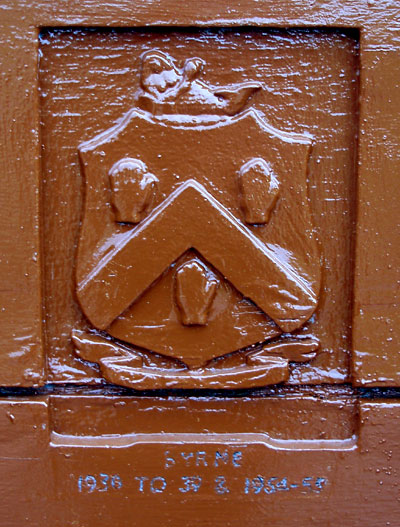 A version of the Byrne coat of arms is carved on the main chair. The knight's helmet in the original arms has been omitted and more prominence given to the mermaid and her undoubted attributes.




INSCRIPTION


---
ALFIE O BROIN ARD MAOR NA CATHRACH 1930-1939

ALFIE BYRNE WAS BORN IN 1882 IN SEVILLE PL

HIS FATHER TONY WAS A CITY COUNCILLOR

HE OWNED A BAR IN TALBOT ST

THIS SEAT REPRESENTS HIS LIFE

ALFIE BYRNE BECAME A CITY COUNCILLOR IN 1911

ELECTED MP TO WESTMINSTER 1914

TD DAIL EIREANN 1922 AND 1932-56

HE WAS IN THE 1928-32 SEANAD

CITY COUNCILLOR FROM 1911 UNTIL 1956

LORD MAYOR FROM 1930 TO 1939

AS LORD MAYOR HE IS REMEMBERED FOR HIS ELEGANT DRESS BICYCLE AND CHILDRENS ICE CREAM PARTIES IN THE MANSION HOUSE

IN 1954 ALFIE WAS RE ELECTED AS LORD MAYOR AND RETURNED TO THE FIRST CITIZENS SEAT

HE WAS COUNCILLOR UNTIL HIS DEATH

ALFIE IS REMEMBERED FOR HIS HELPFULNESS TO DUBLINERS AND HIS CHARITY WORK

HE WAS A TRUSTEE OF THE LIVER SOCIETIES AND WAS DECORATED BY THE VATICAN

ALFIE BYRNE DIED IN RATHMINES IN 1956

UNVEILED BY LORD MAYOR COUNCILLOR SENATOR JOE DOYLE 3RD JUNE 1999

TEACHTA DALA 1922-1928 - 1932-1956

SEANADOIR 1928-1932


---


I should clarify that the Liver Societies do not refer to organ donations but to the Royal Liver Assurance Society which was how many of the Dublin poor insured themselves against burial in a paupers grave.

Also there are no fadas, apostrophies, full stops or commas in the inscription.

Two of my grand-uncles supported Alfie in his political campaigns.

See also here, here and here.