Redundant bilingualism?
Observed in Caernarfon, North Wales, 20 September 2007.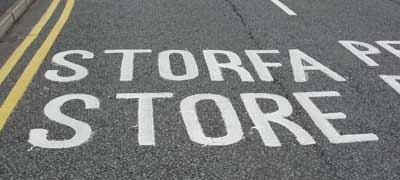 Most signs in North West Wales are bilingual, including those on the road itself indicating correct traffic lanes. The sign above is for turning left into Morrison's supermarket in Caernarfon. The words in English and Welsh for "store" are close enough but dissimilar enough to warrant putting the sign in both languages.





The sign above is for turning right into Morrison's petrol station. Draw your own conclusions.