Private John P Dwyer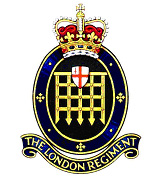 15th (County of London) Battalion,
London Regiment (Prince of Wales's Own, Civil Service Rifles)
140th Brigade, 47th Division
Service number: 5287
John P Dwyer
was working as a Civil Servant in London.
He joined the Prince of Wales Own, London Regiment, Civil Service Rifles, and
died in the assault on High Wood, on the Somme, on 15 September 1916.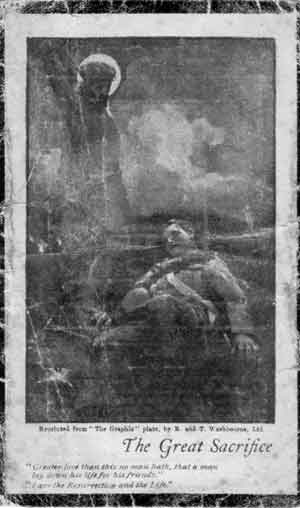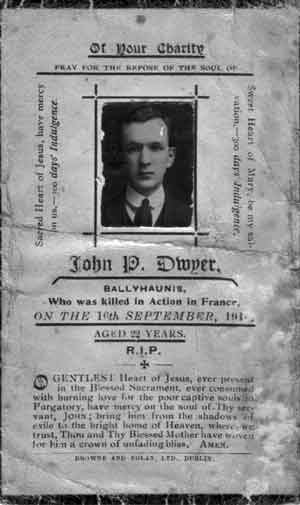 His memoriam card is reproduced above.


This is the War Medal which was awarded to him, and to everyone else who fought for the Allies in the First World War.



The inscription on the medal refers to this as the Great War for Civilisation. Today, we may be inclined to look cynically on this title, given the slaughter on both sides in this wasteful war, and the readiness of many leaders today to commit their people to the horrors of war in furtherence of mean and partisan interests. But, in its time, this tag was taken seriously by many people who joined up with the highest of motives.

I don't know what got John into the war. The rifles were a Territorial unit and there was a tradition of joining among Civil Servants of all grades at the time. Some even saw it as the equivalent of a social club, or as we would regard the gym today. There was even a certain amount of peer pressure to join and this dated from well before the outbreak of the war or the prospect of it.

You can see the details of John's casualty record at the Commonwealth War Graves Commission's site. This site will lead you to others showing the Thiepval Memorial where John's name is inscribed. This "Memorial to the Missing of the Somme" bears the names of more than 72,000 officers and men of the United Kingdom and South African forces who died in the Somme sector before 20 March 1918 and have no known grave.







John's name inscribed on the Thiepval Monument



There is also an individual memorial at High Wood dedicated to members of the Civil Service Rifles who fell there, and also one at the Rifles HQ at Somerset House in London.

John's name is also included in those on the memorial in the Mayo Peace Park and Remembrance Garden in Castlebar. His name is also recorded in the log at the National Memorial in Islandbridge, Dublin.

He has most recently been commemorated with his name being read out on 11 November 2014 at the Tower of London. Scroll down to No.44.

High Wood

The assault on High Wood, while successful, had the highest death casualty rate of any operation undertaken by the Civil Service Rifles in the course of the First World War. Some 170 men died, of which about 50 were original men (15 March 1915), and the balance were subsequent reinforcements. High Wood was on a low but strategically important ridge, which overlooked the plain of Bapaume, one of the ultimate objectives of the July 1916 offensive. After the capture of Longeuval on July 14, the advantage was not exploited and the opportunity was lost for cavalry to take High Wood. Subsequent attempts to do so failed and when the Germans were ejected from Delville Wood in August 1916, High Wood remained the last obstacle on the path to Flers. The task of ejecting the Germans was given to the 47th Division.

The operation was the first to use tanks, and expectations for this new technology exceeded any realistic prospect of what could be achieved. The planners were warned that the terrain was not suitable for this new weapon. They were also told that plans for the tanks to precede the infantry in a frontal attack did not make sense. In the event, the corps commander overruled General Barter and insisted in deploying them. This effectively resulted in depriving the infantry of artillery cover as the tanks proved more than useless in the event. In the subsequent witchhunt General Barter was summarily relieved of his command. The General had earlier described the orders under which he was operating as "damned silly orders" which he, nevertheless, loyally carried out. The Official History eventually acknowledged this "tactical blunder". But by the time this vindication was published in 1938, Barter had been dead for seven years.

In a final irony, in the grand retreat of March 1918, the 47th found itself retreating through High Wood where so many had died in 1916, an effort which then seemed to have been in vain.

I am grateful to the late Jill Knight for her evocative chronicling of these events in her book "The Civil Service Rifles in the Great War".

If you want to further explore the atmosphere of the war, the horror of the whole thing and the contradictions felt by many Irishmen who served, it would be worth your while reading Sebastian Barry's book, "It's a Long Long Way". His fictional character, Willie Dunne, was from Dublin, but he fought over some of the same ground as John.

There is an evocative slideshow on Youtube which also shows what happened to some of the tanks. And a video. And lots more you can access from these.

You can see where John figures in the Dwyer family tree here.

You can get a personal slant on family involvement with British Forces of one sort or another here. I have only recently learned that John was a member of Conradh na Gaeilge (The Gaelic League) and that he won a book prize in the Mayo Feis of 1903 organised by the Ballyhaunis branch of the Conradh. It is fitting then, that, having worn a Poppy on Remembrance Day, I had blogged that on both my English language and Irish language blogs.

Cousin Colette has the story that John's younger brother Mick, who was also in the Civil Service in London, was brought home by his mother to ensure that he did not enlist. Mick was credited with being a runner in London for Michael Collins at that time.

You can see a montage on John, composed by Sandra Taylor in 2016 - the centenary year of his death - here.



John P Dwyer 1893 - 1916