St. Stephen's Church
Killiney, Co. Dublin

---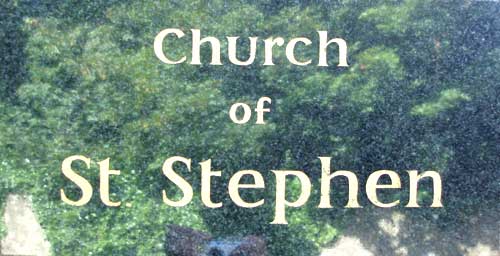 St. Stephen's RC church in Killiney, Co. Dublin, is a chapel of ease to Ballybrack parish church. It opened in 1984. Imogen Stuart, to whom I have referred elsewhere, was the artist in residence and she has done a beautiful job. The interior is peaceful and tranquil and, above all, simple. The approach and the small outside garden with its mini-cloisters add to the impression of monastic serenity.

It is all on a relatively small scale, tucked away as it is, on the Killiney Hill road opposite the main entrance to the park. It is a real oasis of tranquility in today's rush-rush world.

Unfortunately, due to current staffing difficulties in the Roman Catholic church, it can also be a mirage at times. The first time I went there it was closed. So I made sure to turn up for my second visit on a Sunday morning. I expected to have some difficulty parking but subsequently found out that there is only one mass on a Sunday at 9am. I met a man there but I'd say he and I were the only visitors between mass and closing time on that day.

It is a pity that such a beautiful place is wasting much of its sweetness on the desert air.

The only other time I have come across an artist in residence, so to speak, was in 1965 in St. Hugues, near Grenoble.



---
Enjoy the pictures below from St. Stephen's, Killiney.