Brugge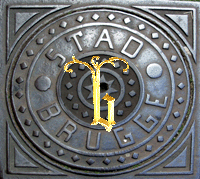 Background
Brugge, formerly Bruges, in the Flemish part of Belgium, is a beautiful medieval city. If you want the full background you can get it in Wikipedia.

I studied here in 1967/8 at the height of the linguistic wars. A selection of my material from that period is here

What follows is a personal take on the city during a recent visit.

Each heading below is followed by a short introduction to its theme. Click on the heading to access a separate page devoted to the theme.
College of Europe
Historical material is on the College's website. It was still a fairly young institution when I was there in 1967/68 with under 60 students and just one residence in the city. The EEC still consisted of the original 6 members. During my stay, de Gaulle turned down our application (along with those of the UK and Denmark).
Belfry
The Belfry/Watchtower is the central icon of Brugge. It originally underlined the city's independence and status. It can be seen from many points in the city but has rivals for prominence in the city's many churches.
Saturday Morning Market
There is an open air market every Saturday morning at the Zand, a large open space with a major new sculpture in the centre and a new concert hall and cultural centre dating from Brugge's year as European capital of culture in 2002.
Other building & monuments
A selection of buildings and monuments of one sort or another.
Bicycles
The bicycle is extensively used to get around in Brugge.
Oddities
Some picturesque aspects of the city which struck me in my perambulations. You can even see me, twice, if you look closely enough!
Language Wars
Two random thoughts on language. I may fill out more here if I can work up the energy.
---
Photos on Flickr
SPQR window : 41 Sint Jakobsstraat
Markt from Belfry
Danny Boy : Belfry
Urinoir : Jakobsplein
Gilded Justice : Burg