---
Celtic Commotions
---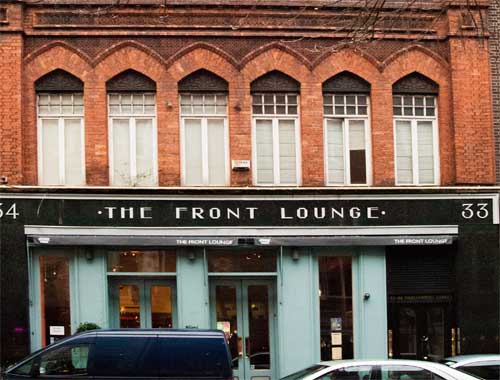 I was very taken with Sueann Moore's recent Docklands/Ringsend exhibition in Pearse St. and I got an invite to the launch of her current exhibition. I knew it was in the vicinity of Parliament St. and on the previous day she said it was in the front lounge. It was only when I was trying to figure out exactly where to go that I realised that I didn't know in which pub's front lounge it was to be held

That's how out of touch I am with the modern Dublin scene. You see, it appears that there is an actual pub called The Front Lounge, and it is a very interesting pub indeed. I arrived nearly an hour early and came to the conclusion it was a snazzy sort of place. Then, as I was sipping my coffee, I noticed the odd couple snogging here and there. Then it dawned that they were same sex couples. Yes, I really am out of touch with the modern Dublin scene.

Anyway, I was clearly in the right place, as I recognised Sueann's style in some of the pictures on the wall, and there were two other groups of pictures which turned out to belong to her fellow exhibitors.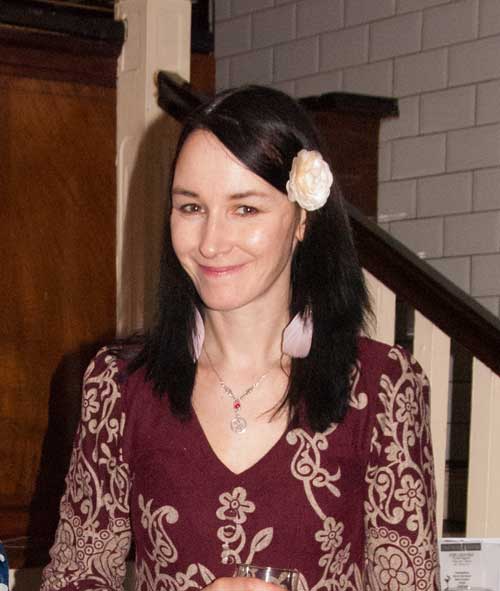 Sueann Moore


Sueann turned up in great style, and the alcove reserved for the launch filled up pretty quickly. The exhibition continues throughout the month of March, and all the pictures are for sale. Prices are set higher that those at the Ringsend exhibition and I assume that is to take account of the snazzier surroundings and the possibility of passing tourist traffic around St. Patrick's day. The pub is well situated, in the middle of Temple Bar, beside City Hall, and within easy reach of Christ Church. Tourists there will be. The trick will be to get them into this particular pub and then to see the paintings on the walls and realise they are for sale.

The exhibitors have a website which displays some of the exhibits, so I won't repeat those here. This is Sueann's page which, along with a short bio, shows examples of the strictly celtic mythological exhibits. (Clicking on the images on the exhibition website brings up larger versions.)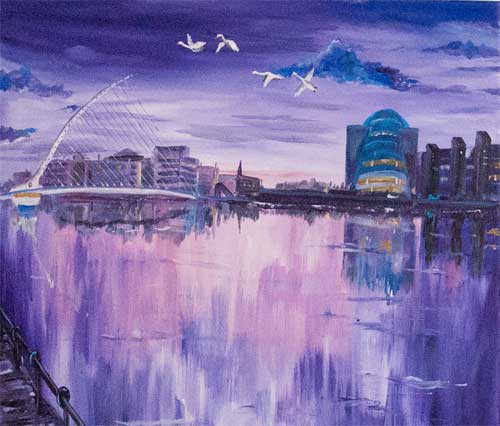 The Children of Lir


However, she has got some of her favourite themes in as well. This picture depicts the children of Lir as swans flying over a modern bespoke panorama of the Liffey - myth meets modern.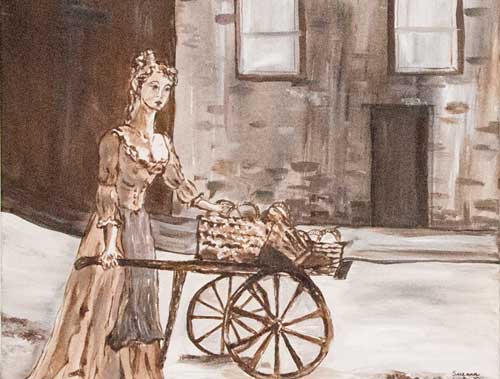 Molly Malone


And the more modern myth of Molly Malone. This one is based on the ample bosomed statue at the bottom of Grafton St.



Ed Byrne


Ed, on the left, also has his own page. He is here explaining one of his pictures, Fashionista, to an admirer. That's his daughter, Chantelle, in the picture.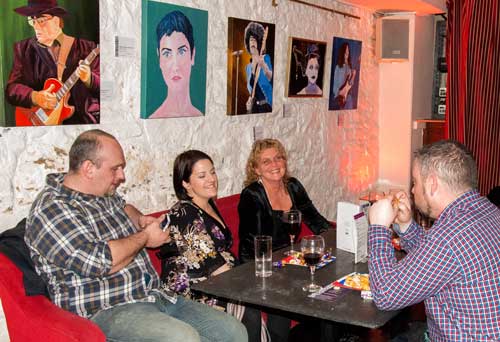 His other pictures on show are of iconic musicians, Jimmy Hendrix, who is not Irish, and Van Morrison, Sinéad Ó Connor, Phil Lynott and Rory Galagher, who are.



Sonja Leander


Sonja completes the team, with her webpage and fine art graphic celtic designs.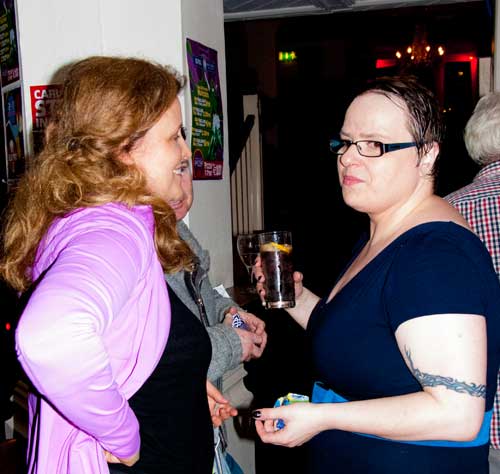 Gemma and Sonja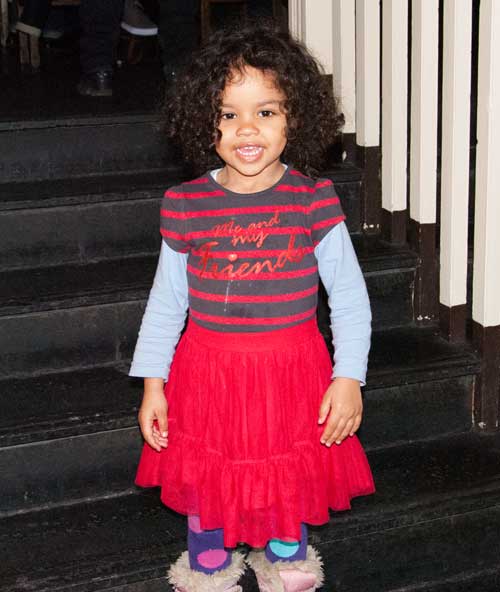 Molly Wanjigo


Molly, aged 4, is Gemma's little girl she more or less stole the show as she happily wandered all over the place while Gemma struggled to keep her in view.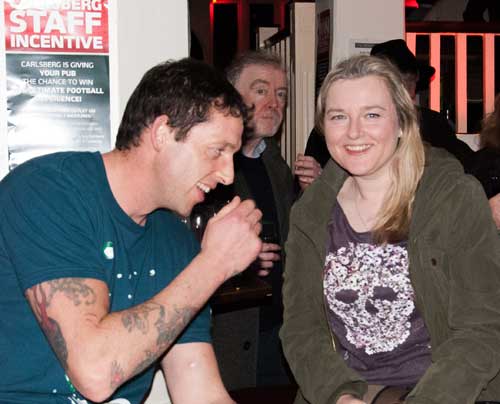 John Mullen and Linda Byrne


Not only ejoying the exhibition but apparently happy to have their photo taken into the bargain.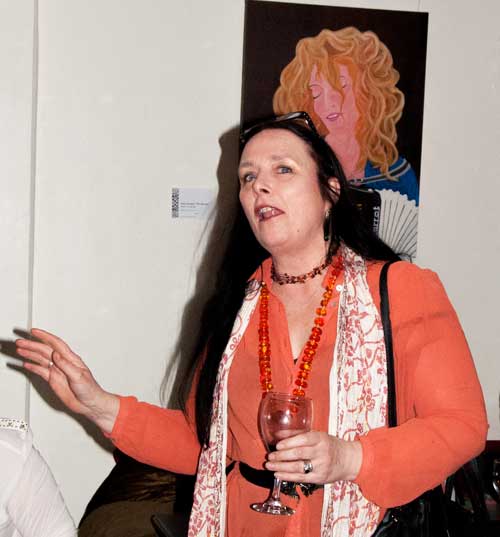 Barbara Lee


When people were sufficiently socialised, Barbara launched the exhibition, waxing lyrical about the exhibits and exhibitors. Barbara is a Wiccan High Priestess, a long time inspiration to Sueann, and an expert on mythology and the soul of Ireland.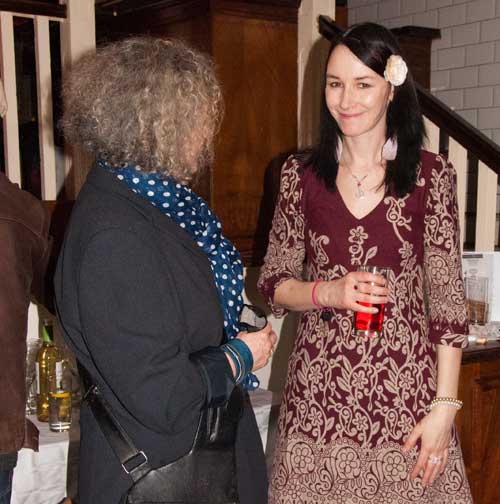 Paula and Sueann


Sueann chatting to Paula Metcalfe, who runs the Artlink Programme in Roslyn Park College where she taught the three exhibitors.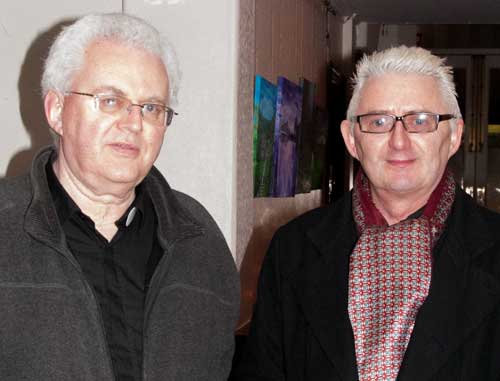 Ivan and Pat


For some reason these guys insisted on having their photos taken, so here they are.

I subsequently discovered that Ivan is PP in Ringsend and Pat is a pal of his.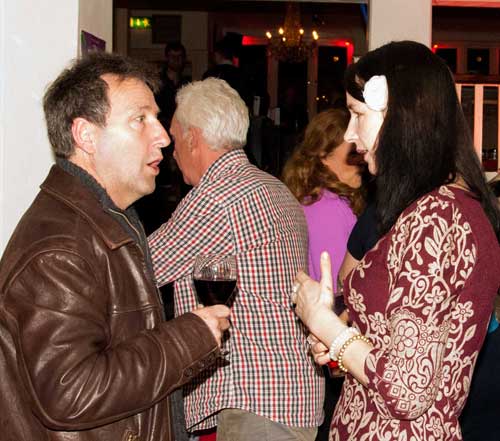 Paul and Sueann


Paul runs an art, magic & theatre company called Applause Events.


---


And I'll leave you with another picture of the little lady who stole the show.