Mise Éire
filleadh ar an Choláiste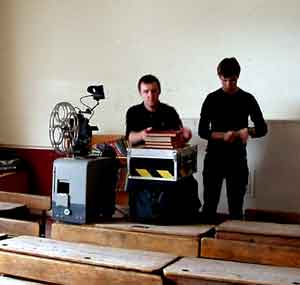 This is more or less the fiftieth anniversary of the first screening of the magnificent film "Mise Éire". Midas Productions are making a TV programme on the event for screening by TG4 later in the year. They had heard that some Coláiste classes went to the first screening and they were looking for people from Rang '63 to discuss our attendance at the film and also maybe to provide a few asides on life in the Coláiste.

I circulated the Rang and the only takers were myself, Alan Dukes and Terry Purcell. So we spent about 4 hours with the crew on 29/8/2011, in a classroom in Gaelscoil Choláiste Mhuire on the east side of Parnell Square, and our contribution is now in the can. I assume this will only be a short element in the programme and I will be very interested to see how the whole thing turns out.

I'll let people know when I have the transmission dates.

Meanwhile you can see us faoi dhian scrúdú in the Gaelscoil.


---
Músaem Mí-úsáid Páistí
molta ag Ruairí Quinn


I lár 2009 mhol Ruairí Quinn TD go mbainfí úsáid as shean-fhoirgnamh an Choláiste le músaem a bhunú in ómós agus i gcuimhne íospartaigh dhrochíde. Tá sé in am úsáid fónta éigin a bhaint as an bhfoirgneamh seo atá anois i seilbh an Stáit. Agus tá Ruairí féin anois ina Aire Oideachais. Buíochas do Eoin Ó Maoileidigh ar leathanach Facebook an Choláiste as an eolas seo.


---
Cruinniú 2011
24/6/2011


[Mar a tharla, níor éirigh liom féin a bheith i láthair agus bhraitheas uaim é. B'shin an chéad uair dom, más buan mo chuimhne.

Ach, mar is gnách, tá cuntas cruinn faighte agam ónár gcomhfhreagróir dílis Seán Ó Faoiáin. Nár laga Dia a lámh. P.]


The night went very smoothly as usual. The room was properly set up and about 10 of us turned up on the night. The food was good and the drinks were kept up to us - no mean feat that! Antoin was in great form organising everything, especially the money!

As always we were regaled with many stories as more and more participants found the courage to speak and there were lots of laughs. The biggest laugh of the evening was for silly me who boldly announced that I had every last penny (cent) of my pension fund invested in National Australia Bank (NAB) shares! Mind you we had been talking at length about Ireland's dilemma and how Government policy on savings filled bank coffers with so much money that they were paying huge bonuses to loan officers to push it out to borrowers. Oh my goodness. That resulted in the 'Mother of all Property Booms' - until the music stopped that is.

I will say, in my defence, that the NAB like the other 3 major banks here did not suffer materially during the Global Financial Crisis (GFC). Sure there was a few $Billion written off between them as a result of the Collateralised Toxic Loan bundles. But that happened two years ago and is ancient history here. The bigger concern is Europe and the Euro led by the five PIIGS.

Frank Russell couldn't get a word in edgewise this year which surprised everyone including Frank himself. He is looking fantastic though and appears to be returning to reasonable health very well.

O'Bradaigh was in full voice as normal which brings great fun to these gatherings. When the discussion of our 50th Anniversary came up, the question was raised as to whether we should invite the ladies. O'Bradaigh settled that matter in a flash by announcing "How the feck would they know what we were even talking about?" It will therefore be a luncheon affair for boys only - "so we can party on afterwards". Another O'Bradaigh decision which we didn't have the courage to disagree with on the night. We agreed to have that luncheon at Chapter 1 in Parnell Square, not far from the scene of many a scary event at Colaiste Mhuire all those years ago.

All in all another memorable night. Commiserations must go to all of those who couldn't, or otherwise didn't, attend. You all missed another good one.

I hope to be able to advise suggested dates for next year's gathering within a month as I will have to settle next years trip to Europe by then.

Warm regards,

John



---
Tomás Mac Anna

D'éag Tomás ar 17/5/2011

Scríos píosa faoina sheal sa Choláiste.

RIP
---
Coláiste Lockdown for Queen's visit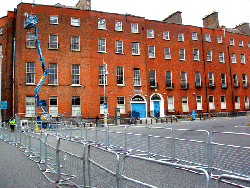 Hover cursor for larger image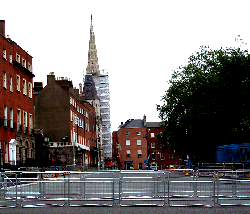 Hover cursor for larger image



The east and north sides of Parnell Square were locked down on 16 May 2011, the day before the Queen's visit.

The west side was left open, presumably to allow traffic in and out of the Rotunda Hospital.

John Whelan may feel, of course, that it was out of deference to the ghost of the Galway Arms.

Sinn Féin might feel it was to let people see what looks like a newly tarted up façade at their HQ, presumably not done for HM EIIR.

I remarked to one of the Garda on duty, that, had I still being going to school and had the school still been there, I would, no doubt, have had the day off.

A few more pictures here.

Update: I went back to the area a few days later just to check it out. It appeared to me that the doorways, or at least the surrounds, had all got a lick of paint. The broken window in the séipéal was still broken, though.


---
Frank hits the airwaves ... again!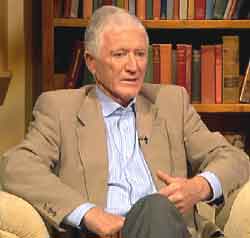 Hover cursor for larger image


When this publication was launched in 2005 Frank made the front page, with his contribution to RTÉ radio's Sunday Miscellany. Now he's done it again with his interview on TG4's Comhrá.


---
2B or not 2B
I had an item here entitled 2B or not 2B which was starting a debate on the merits and demerits of streaming in the Meánscoil. There were a number of lively contributions but the presentation was getting very complicated and it was my intention to edit it into a more comprehensible summary form and provide a reference to the full correspondence for those who wanted to follow it up further. I appreciate that some people have put a lot of thought and work into their contributions (including myself). So far I have not had the time to edit it and in fairness I have dropped the item for the moment and hope to come back in the new year with a suitably edited version.

Pól


---
LARCC ar RTÉ
Anseo - 40MB


Thug RTÉ Nationwide thart ar 5 neomat don eagras LARCC ar 19 Deire Fomhair 2011.

Bhí Frank ina chomhbhunathóir LARCC. Tugann an t-eagras iarchúnamh do lucht ailse.

Tuilleadh eolais anseo


---
Roinnt Griangrafanna
ón bhailiúchán
anseo
---
John Whelan's
next trip
For the diary: 24 June 2011
---
Micheál Ó Doibhilín
Fuaras an giotaoin seo ó Chormac Ó Grádá inniu.

3ú Ean 2011

Thugas féin agus mo bheirt pháiste cuairt ar Phríosún Chill Mhaighneann (Kilmainham) inniu, agus cé bheadh ag obair ann go dícheallach romhainn ach Micheál Ó Doibhilín as Rang a 6 [1963]. Bhí comhrá breá againn agus sé Micheál a stiúraigh thart sinn. Ní hamháin san ach thaispeáin sé áit nó dhó dúinne ná faca na cuairteoirí eile taréis dóibh san bailiú leo.

Is fiú go mór turas an phriosúin a dhéanamh i gcuideachta Michíl: neart eolais, agus spreagadh, agus fiú roinnt grinn.

Tá an-spéis ag Micheál sa stair agus leabhrán breá díreach foillsithe aige ar Anne Devlin, cara Robert Emmet, a chaith cuid mhaith ama sa phríosún.

Sé a sheoladh ríomhphoist ná odoibh_m@hotmail.com. Tá cónaí ar i Lucan. Dúirt sé go mba mhaith leis bualadh leis an sean-dream ón Mhuire arís ag ócáid éigin.

Níl a chuid Gaeilge dearmadta aige in aon chor! Sí a labhramar ó thús deireadh.

Cormac Ó Gráda

---
Is cuimhin liom Micheál go maith.

Le linn an scrúdú creidimh thug sé freagra mírialta ar cheist faoin Welfare State, agus, muna bhfuil dul amú orm, tháinig litir on Áras (Dromchonrach) ag cáineadh na scoile agus ag éileamh leithscéil.

Ar ndóigh is ag Micheál agus ní ag John Charles abhí an ceart an uair sin.

Tá cáil ar Mhicheál freisin toisc curry creimneach a bheith ainmnithe ina onóir san Taj Mahal, i Sráid Cliara, fadó. Is trua nach bhfuil an bialann sin linn a thuilleadh.

Pól
---
Coláiste@Facebook
Tá suíomh Facebook ag grúpa (437) iarscoláirí. B'fhiú breathnú air.


---
Síntús

Seol isteach bhúr gcuid scéalta, griangrafanna, airgead don chiste chosanta (only joking - strict editorial control !!)


---
Treoir

Guidelines for submission of material for publication in IarNuacht. These are designed to be helpful to everybody in the long run!
---