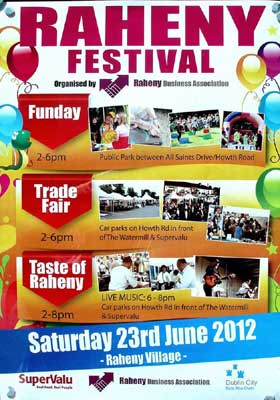 Click on any side heading for a page on that theme
---
Background
This is only the second year of the Festival. Last year's was a first and a huge success. But the Raheny Business Associaton, who run the Festval, didn't sit on their laurels. Lessons were learned, more creative ideas sprang to mind, details were tweaked. And it all showed in this year's Festival.

The weather forecast was appalling. It should have been raining buckets. But, Divine Intervention kept the rain at bay untll the day was duly wrapped up around 8pm. Raheny, of course, is known for its many churches, old and new, and, no doubt, through the intercession of St. Assam, Our Lady Mother of Divine Grace, and All the Saints, the atmosphere was tweaked from above to ensure the atmosphere below fulfilled the promise of last year's Festival.
Stewarding
Stewarding can be the making or breaking of an event. Just like last year, the stewarding was extensive, intense, and above all good humoured.
Setting up
Preparations for the following year begin as soon as a Festival is over and a huge effort was put into organising this year's Festival throughout the preceding year. It certainly showed on the day. This page, however, just concentrates on the physical preparations on the day itself.
The Businesses
The Raheny Business Association is going from strength to strength. The effort put into its organisation is paying off and the public at large are becoming more aware of it through the Business Directory, the revamped website, and, above all, the Festival, which is a great day's outing for all Raheny-ites and their neighbours and friends.
The Tidy Village
A large number of Raheny people are probably unaware of the number of awards won by the village in recent years. It is no harm to be reminded and the Raheny Tidy Village Group have a stand at the Festival where you can see some of the awards.
Children's Art
Raheny primary schools have been involved in the Festival again this year and the results could be seen on the school railings during the Festival.
The Park
The park at Wades Avenue was a great success last year. The children, and their parents, had a ball. This year had it again.
Music
Flinch were back for the 6pm to 8pm slot, but the stage was made available to other performers during the afternoon.
Packing Up
All good things come to an end. Time to start planning for next year.
---
The Raheny Business Association
has got a spanking new website which is well worth a visit.
It includes the official photos of this year's festival.
Both of these items are sourced locally from Úna Healy.