Gordon Brewster
& his cartoons
National Library of Ireland
Library Week
17 November 2014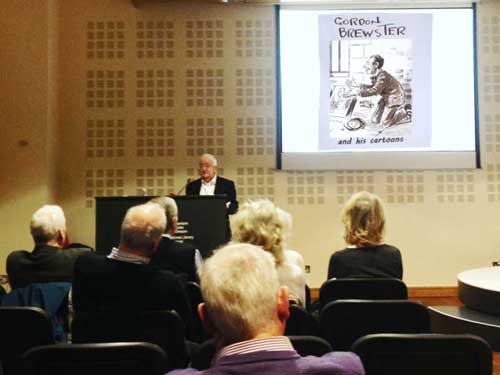 Photo: Dónal Ó Duibhir
Background

This is a cheeky one. I approached Brid O'Sullivan in the National Library of Ireland and suggested I do a talk on their recently acquired collection of Gordon Brewster cartoons.

I had some cred at the Library as I had been through the cartoons and had done a guest posting on the Library's excellent blog, explaining my (very tenuous) connection with Gordon Brewster and how I thought the cartoons a fabulous collection.

The Presentation

The Powerpoint presentation can be viewed with the Microsoft Powerpoint Viewer. If you don't have the viewer, you can download it from here



I don't have a "text" but this is the "running order" which is effectively my script for the presentation. It is simply a table listing the slides and the points I want to make while the slide is on the screen.


MS DOC or PDF

Relevant Material on my Website

Death of an Artist
The starting point was really Gordon's death in The Gem when I was only two years old. I clearly don't remember the occasion but the story remained in the family and I knew that Gordon Brewster, the artist, had died in my mother's shop. When I was chasing up my family history in recent times I compiled a background page on the Gem and this included a reference to Gordon's death.

Family Grave
When I learned from the newspapers of the day that Gordon had been buried in Kilbarrack Cemetery in Sutton, I checked out the grave and came across further details, including about Gordon's brother, Richard who, it turned out, had died on the Somme in WWI, not far from where my own uncle John had fallen.

Blogging the Cartoons
Felix Larkin drew my attention to the National Library's recent acquisition of a collection of almost 500 of Brewster's cartoons and Honora Faul, who was in charge of the collection at the Library, graciously let me come in and go through them. This was long before they were up online.

I was very taken with them and was contemplating doing a blog post on the collection when Honora and Carol Maddock, who ran the Library's oneline presence, suggested I do a post for the Library's own prestigious blog. I jumped at it and Death in a Sweetshop was the result.

Honora then put me in touch with Gordon's daughter, Dolores, and her daughter, Lynne, and I met them when they were over from England on one of their periodic visits to Gordon's grave. I have since been in contact with other members of the family who have passsed me on some family photos, two of which I have included in the presentation.

Cartoon Collection online
It is well worth browsing through the collection which is now online. There are slightly different ways of approaching this depending on what you want, so I have done a brief guide to accessing the cartoons. If you want, you can go straight to the collection itself here.

Caricatures
In the presentation I have referred to the caricatures contained in some of Brewster's cartoons and you can see the full range of these on this page.

NLI&I
I have had many fruitful encounters with the National Library of Ireland over the decades, of which the cartoons are only the latest. The Library is playing a blinder with its current digitisation programme, bringing its contents to a world audience, and all this despite disgraceful cutbacks in State support. Anyway, in case you're interested, these are the encounters to date.

Relevant Material in my Blogs

Collection of Blog Posts
I have done a number of separate blog posts in recent times which either directly treat matters relating to the Brewsters or include references to members of the family.

Our Oil under Your Land?
Brewster's cartoon on the USA response to Mexico nationalising its own oil in 1927. Timeless.
26/8/2013

Polyester Poppies
Commemorating the deaths in WWI of two very different men, my uncle John and Richard Brewster.
10/11/2013

Abraham Feldman
Post on the Man on the Bridge projects to which I had forwarded two street photos of Gordon Brewster received from the family.
9/4/2014

2RN
Out in Montrose recording some pieces for the History Show, including a one minute memorial of Richard Brewster.
6/5/2014

#SackTheSub
A rant against the increasing rate of typos in the national press, illustrated by one of Gordon Brewster's cartoons.
2/9/2014

Richard Gardiner Brewster
How Richard is commemorated in various locations throughout the city of Dublin.
5/10/2014

Gordon Brewster
Remembering Gordon Brewster in the run up to Bloomsday.
14/6/2014

The Grove
Brewster's own house in one of his cartoons.
19/8/2014

St. George's
Beautifully renovated church in which Richard is commemorated on a magnificent stained glass window and elsewhere.
23/8/2014

DUBLIN OPINION
Felix Larkin's talk on Dublin Opinion in which post I mention both Brewster's and Ernest Forbes's cartoons.
29/10/2014

Judging WT
Michael Laffan, in his new book, has used five of Brewster's cartoons. A fitting tribute indeed.
22/10/2014

Homer nods ... again
Cock up in the Independent's art department. Wouldn't happen in Brewster's time.
14/4/2013

Compendium of Posts
This link will bring up all the above posts together. You will need to click "Older Posts" at the bottom of the page when you reach it.

Contributions to Other Publications

Agallamh ar Raidió na Life
Ní raibh Cian in ann freastal ar an gcaint sa Leabarlann Náisiúnta agus thug sé cuireadh dom teacht isteach sa stiúidió labhairt faoi Gordon Brewster agus na cartúin. Cárthach Bán Breathnach, mac le Seán Bán, a chuir agallamh orm agus a chuid obair baile déanta go maith aige. Tig leat éisteacht anseo.

Cian couldn't make it to the talk so he invited me into studio to talk about Gordon Brewster and his cartoons. The interviewer was Cárthach Bán Breathnach, son of Seán Bán, and he had done his homework. You can listen here.

A transcript in English is available here.

Death in a Sweetshop
This is just another link to my guest posting on the National Library of Ireland's blog.

Third Party Sources

Herald Boot Fund
I had some items in an earlier draft of the presentation which I had to drop due to time constraints but there is no reason not to refer to them here.

In the earlier draft I referred to the Herald Boot Fund. This was a charitable fund established by Gordon Brewster's father. Its initial purpose was to buy boots for the barefoot newsboys he had observed in the street. I think it may well have broadened out in later years and have not seen any reference to it in modern times. Bill Cullen grew up in Dublin and his family was one of the beneficiaries of the fund. He has an interesting discussion of aspects of its operation in his book.

Tower of London
In that draft I also referred to Richard Gardiner Brewster's name being read out as part of a ceremony at the Tower of London in the run up to Armistice Day. The relevant roll of honour has been put up online and you can check out the entry for 2 November 2014 where Richard appears as No. 78. (While listed under 2nd, the name was actually read out on 1st November).

High School Dublin
Michelle Burrowes, who teaches in High School, Dublin, has undertaken a fascinating project tracing all the school's pupils who served in WWI, with particular emphasis on those who died. In cooperation with Alan Phelan, the school's full time archivist, she has unearthed some very interesting material in the school's archives. You can see her page on Richard Brewster here. It also refers to his brother Theo who served with him in the South Irish Horse regiment, and includes a family photo of the four Brewster boys which I passed on from the family.


---
.